UNFPA Botswana celebrated World Population Day 2014 under the theme Investing in young people: the future we want in a ceremony attended by officials from government, civil society, the United Nations and the diplomatic community and young people.
For this year's commemoration the UNFPA partnered with the Ministry of Finance and Development Planning, Botho University, Botswana Telecommunications Corporation (BTC) and Botswana Communications Regulatory Authority (BOCRA). A Youth Dialogue was held at Botho University to spur discussions on issues that affect young people's lives, thus advocate for high-impact programmes to significantly improve their lives. The Youth Dialogue brought together about 150 young people to converse through a cyber-connectivity in 3 places across the country, namely; Gaborone, Mmadinare and Ghanzi. Targeting decision-makers, service providers and others, the dialogue was meant to promote youth's participation in the formulation of the National Development Plan 11 and Vision Beyond 2016.
In her remarks UNFPA Botswana Country Representative Aisha Camara-Drammeh said in order to harness the potential that this youth bulge presents, there is need to respond to a number of challenges that are present. She said; "Investing in young people today by promoting healthy habits and ensuring education and employment opportunities, access to health services, and social security coverage for all workers is the best investment to improve the lives of future generations. By prioritizing investments in this generation, the post-2015 global agenda will ensure that the human rights of all adolescents and youth are protected and fulfilled, and that they are well prepared to help create and to lead the world that they will inherit."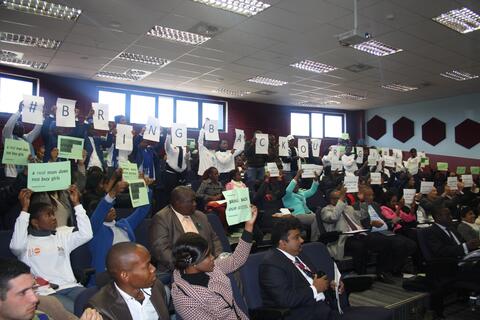 Botswana, like other countries in the region has a high population of youth, with over 60% of the population below 30 years and 33.5% aged between 10 and 24. This group faces a number of challenges that include, but not limited to: poverty, limited access to health services, limited access to educational opportunities, child-marriage, violence and coerced sex and adolescent unwanted pregnancies. Also, young people are still too often excluded from decision making processes that directly affect their lives.
Despite a positive trend showing that the Government of Botswana has made progress on youth development, it is important that for progress to continue, all participants including the government, international donor and local partners need to sustain continued support and investment into this group.
The youth participants used the dialogue to speak out on their needs and make suggestions of the kind of future they want to see. They made a call for youth leagues, a quota of youth representation in parliament, and an introduction of a youth parliament. They also added that safeguarding their rights and investing in their future by providing quality education, decent employment, effective livelihood skills, and access to Sexual Reproductive Health and comprehensive sexuality education that emphasizes gender equality and empowerment, is essential to their development and that of their families, communities and countries.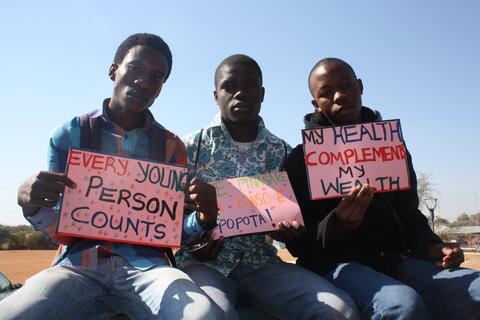 The attendants also showed supported for the needs of young people to become a key cross-cutting issue by taking 'selfies'. The campaign is part of the global move to collect 'selfies' to be submitted to the UN General Assembly in September this year. There was also a group picture with placards calling for the return of over 200 innocent young girls abducted in Chibok, Nigeria.