Palapye, BOTSWANA- United Nations Population Fund (UNFPA) and Botswana International University of Science and Technology (BIUST) together with Ministry of Health and Wellness (MOHW) and Ministry of Tertiary Education, Research, Science & Technology launched Botswana's first drone delivery service pilot termed Drones For Health in Palapye on the 7th May 2021.
The Drone for Health pilot project, aims to accelerate reduction of preventable maternal death by delivering maternal health supplies and commodities including essential obstetric care drugs, blood and blood products and laboratory specimen in a  timely manner, particularly to hard-to-reach communities and health facilities, to save lives.
Ms. Beatrice Mutali, UNFPA Botswana Country Director said the project is a game changer which will not only improve the maternal health situation in Botswana, but also transform the entire health system for the country.
"At UNFPA, we envision a world where no woman dies while giving a life, and this innovation partnership promises to alleviate the maternal deaths situation in Botswana."
She highlighted that UNFPA has embraced innovation as a corporate priority that is an  indispensable engine to bring transformative change for women, girls, and young  people. 
"Our innovation strategy recognises that achieving the 'leaving no one  behind" goal is not achievable without powerful partnerships, hence our work with BIUST and MOHW. We believe that today's problems and changing context, call for harnessing new innovations that can provide  breakthrough solutions that deliver sexual and reproductive health for all," she said.
The drones for health innovation will contribute immensely to improved and more equitable access to life-saving quality care for the most vulnerable, particularly women and girls across Botswana, and contribute to reducing the number of deaths of pregnant women. This innovation supports the Government of Botswana's commitment made at the 2019 Nairobi Summit to reduce maternal deaths to 70/100 000 live births by 2030 and UNFPA's transformative result of ending preventable maternal deaths by 2030.
Professor Otlogetswe Totolo, BIUST Vice Chancellor said the project has the right technical tools to bring skills and technical innovation to attract investment avenues into Botswana.
Maternal mortality in Botswana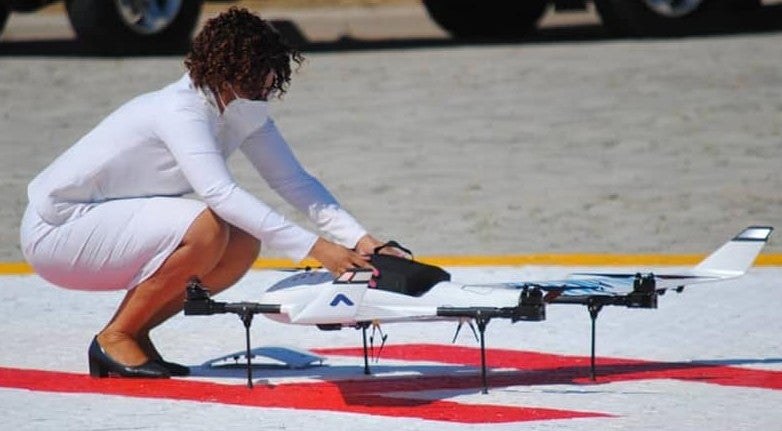 A nurse placing the cargo in the drone before take-off © UNFPA Botswana
The World Health Organization (WHO) estimates that  more than 800 women die each day from preventable childbirth and pregnancy-related issues. Of those, 99% occur in developing countries. At 166 deaths per 100,000 live births, Botswana's maternal mortality ratio (MMR) is more than double the average for upper-middle income countries. In 2017  Botswana set a national MMR target of 71 deaths per 100 000 live births by 2025 and  54 deaths per 100 000 live births by 2030 to achieve SDG 3. If the current maternal deaths trend continues Botswana is likely not to meet the SDG target. According to the Statistics Botswana 2019 MMR Stats Brief, postpartum hemorrhaging or excessive blood loss is the leading cause of death for pregnant women in Botswana.
Speaking during the launch, the Minister of Health and Wellness, Dr. Edwin Dikoloti reiterated the government's commitment to achieving universal health coverage and alignment of national health strategies to the United Nations 2030 Agenda which provides for a strong political commitment to the public by all governments of the world. 
"The sustainable reduction of maternal, new born, and child deaths and overall improvement of health care in general, including sexual, reproductive and adolescent health, remains a high priority for the Government of Botswana and my ministry," he said.
The Botswana Maternal Mortality 5-year Report of 2017, shows that a significant proportion of maternal deaths in Botswana are preventable, with causes of  maternal deaths attributed to factors such as timely availability of emergency obstetric care commodities and supplies, transportation challenges and referral delays.
The Minister underscored that in order to achieve the set targets, efforts to address the causes of maternal mortality have to be accelerated, by investing in innovative options to overcome gaps in the health system, noting that drones for health represent an excellent example to do so. 
Drones Efficiency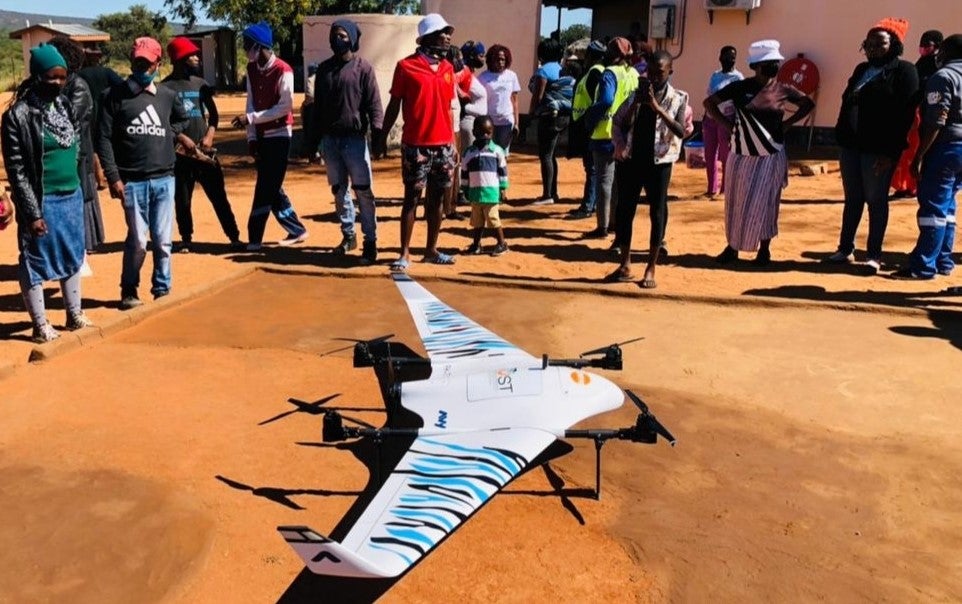 Members of the community appreciating the drone at the landing pad in Moremi Health Post. All landing pads were built by volunteers from the community. ©UNFPA Botswana
The use of drones to deliver essential medical supplies is expected to reduce the delivery time from hours to minutes, meaning obstretric  emergency  supplies could arrive in time to save lives according to BIUST Vice Chancellor, Professor Otlogetswe Totolo. 
Each battery-powered flying aerodrone has a delivery distance of 100 kilometres carry up to 2 kilogrammes cargo.The four pilot villages are Lecheng; 32km by road, drone distance of 11km, Mokgware; 55 km by road, 32km drone distance, Mogapi; 108km by road, 75 km drone distance and Moremi; 75km by road 36km drone distance. 
The drones will be automatically programmed for take off and landing and therefore can carry back another load of supplies. Community members in the pilot areas offered their support towards the project by building all landing pads for the drones at the designated health posts.
The drones for health initiative was conceived in 2018 and will be implemented in three phases- Phases I and II will be dedicated to a proof of concept and viability testing. Following a successful rollout, Phase III will be initiated which will develop the business model, identify sustainable partnerships, scale and transfer of innovation solution to the Ministry of Wellness and Health. 
Botswana is the first country in Southern Africa and and third in Africa  to pilot drone technology for health-care.
                                                                                                                                                                                                                                                                                       -Priscilla Rabasimane