"I want you to speak out and be free, this is your space," encouraged First Lady Mrs Neo Masisi at the inaugural Girls Summit in Palapye.
The summit brought together 100 young girls from Palapye and surrounding villages in a "safe space" to discuss their issues freely with the First Lady of the republic of Botswana, and to be empowered with critical information on SRH issues like teenage pregnancy, sexual abuse & exploitation, and HIV prevention. Various experts  equipped the girls with knowledge about their rights, protection systems and support mechanisms in managing sexual abuse and exploitation, GBV, drugs and other substances abuse.  The summit, themed #BreakingBarriers, was part of the First Lady's continued efforts to connect with as many girls as possible around the country breaking barriers of communication between the girls and service providers, and their parents.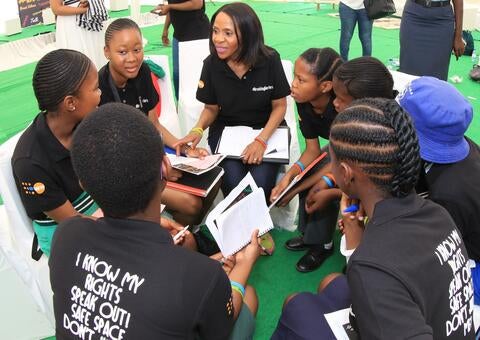 A candid, "chilling out with the First Lady" question and answer session provided the girls a preview of leadership thrills and challenges.
Being one the countries with the highest prevalence of HIV infection, and high Teenage pregnancy for a middle income country, the First Lady's Girls summit provide the much needed platform to empower girls with correct information on SRH issues.